Strict Standards
: Non-static method nggallery::get_option() should not be called statically in
/web/htdocs/www.roma-gourmet.net/home/inglese/wp-content/plugins/nextgen-gallery/nggfunctions.php
on line
10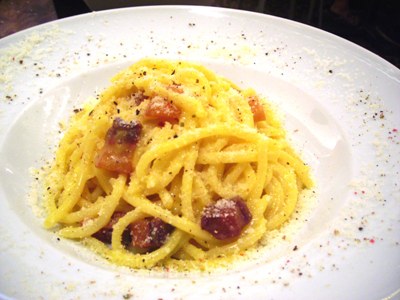 Cut bacon into dices, then cook in a pot over moderate heat, stirring, until fat begins to render, 1 to 2 minutes.
Add onion and cook, stirring occasionally, until onion is golden (about 10 minutes). Add wine and boil until reduced by half (1 to 2 minutes).
Cook spaghetti in a 6 to 8 quart pot of boiling salted water.
While pasta is cooking, whisk together eggs, Parmesan, Pecorino, 1 teaspoon coarsely ground black pepper and 1/4 teaspoon salt in a small bowl.
Drain spaghetti "al dente" and add to onion mixture, then toss with tongs over moderate heat until coated.
Remove from heat and add egg mixture, tossing to combine.
Serve immediately.
Ingredients for 4 people
bacon; 1 medium onion finely chopped; 1/4 cup dry white wine; 400 gr spaghetti; 3 large eggs; Parmisan cheese finely grated (3/4 cup); Pecorino Romano cheese finely grated (1/3 cup); Moliterno Pecorino cheese; 1 teaspoon Sechuan black pepper; 1/4 teaspoon salt