Strict Standards
: Non-static method nggallery::get_option() should not be called statically in
/web/htdocs/www.roma-gourmet.net/home/inglese/wp-content/plugins/nextgen-gallery/nggfunctions.php
on line
10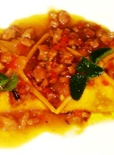 Ravioli  pasta with artichokes "alla Romana" and white lamb ragoût
Chef Catia Sulpizi and Davide Cianetti Italian recipe - restaurant Iolanda – Rome

In order to find the true artichoke, we divested it of its leaves.
Ludwig Wittgenstein, Philosophical Invastigations
Directions for stuffing
Clean artichokes, stuff with minced pennyroyal, parsley, garlic and put them head down with stems in a pot full for 2/3 of extra virgin olive oil and for 1/3 of water. Cover and let cook since they are tenders (for 30 minuts). Mix artichokes and join Pecorino cheese. Use artichokes mix to stuff ravioli.
Directions for lamb dreg

Toast lamb bones in the oven, put them in a pot with butter, celery, carrot, onion, garlic, sage and bay leaf. Dry with red wine, shading. Cover with very cool water or ice. Pass the sauce to the metallic filter called chinoise.
Directions for lamb sauce
Bone the lamb shank and cut it in regular little pieces. In a pot warm extra virgin olive oil, garlic and bay leaf, introducing a bronuase of celery, carrot and onion. Add the minced lamb. Brown shading with red wine and dry with meat brown sauce (demi-glace) since it reduce. Add salt and pepper.
Dish presentation
Cook pasta for 3 minutes, end cooking in the lamb sauce and decorate with Pecorino cheese cheaps and leaves of pennyroyal.
Ingredients for 4 people
For pasta: 8 egg yolks for 400 gr of flour; 3 artichokes; parsley; 1 garlic; 1 celery; 1 carrot; 1 onion; 2 leaves of bay leaf; sage; Roman Pecorino cheese; 1 shank of lamb of 200 gr; lamb bones; ½ glass of red wine; salt; pepper; pennyroyal
Wine
[coupling by restaurant Iolanda]
Chardonnay Giarone 2004 Poderi Bertelli
Costigliole d'Asti (AT) Piemonte
Prestigious Piedmont Chardonnay which matures in barrique barrels. It is spacious and has elegant tones of cream and toasting. In mouth it is prolonged and wrapping, with a good and refreshing acid taste.