Strict Standards
: Non-static method nggallery::get_option() should not be called statically in
/web/htdocs/www.roma-gourmet.net/home/inglese/wp-content/plugins/nextgen-gallery/nggfunctions.php
on line
10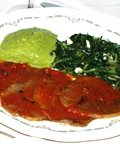 Garofalato with cicoria and fava beans cream

Chef Elio Mariani Italian recipe - restaurant Checchino 1887 – Rome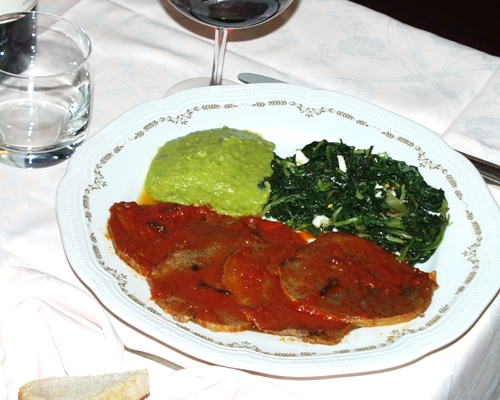 Cram itself in the days of party always was l' ambition, the delight and l' natural pride of the poor.  
Rimpinzarsi nei giorni di festa è sempre stata l'ambizione, la gioia e l'orgoglio naturale dei poveri.
Marguerite Yourcenar,  Memorie di Adriano
Lard the controgirello (muscle) of ox with 10 pig of pillow of slices rolled in salt, pepper and minced garlic. Complete introducing a clove in every hole.
In a pan brown minced white fat, extra virgin oil of olive and meat.  Add dry white wine, make vanish and add water, eight middle minced tomatoes, small cloves and coarse salt.
Cover the pot and seal the lid with tinfoil and a weight above. 
Cook to very low fire for about three hours.
Half hour before the end of cooking, control the density of the liquid and the salt. Juice must not be too slow. 
When the meat is cold, ct into slices.
Serve putting the meat in the juice, heating and serving on warm dishes.
Ingredients for 4 people
1500 gr of muscle of ox, 10 slices of pig pillow, great salt, 1 teaspoon of salt, 1/2 teaspoon of pepper, garlic, 1 barter of cloves, white spoon of fat or oil extravergine of olive, 1 glass of dry white wine, 8 middle tomatoes
Wine
[coupling by Roma gourmet]
Aglianico del Vulture D.o.c. Pretoriano 2001, Martino
Rionero del Vulture, Potenza, Basilicata