Strict Standards
: Non-static method nggallery::get_option() should not be called statically in
/web/htdocs/www.roma-gourmet.net/home/inglese/wp-content/plugins/nextgen-gallery/nggfunctions.php
on line
10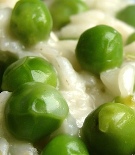 Risi e bisi
Rice with fresh peas and Italian Parmisan cheese
Italian recipe - Bibli - Roma
from "A cena con la locandiera, le ricette di Carlo Goldoni"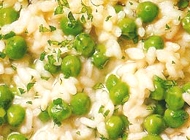 I declive you, I hope to loose my most precious thing: appetite.                                     
Carlo Goldoni, Arlecchino servitor di due padroni
Fry in extra virgin olive oil a mixture of garlic clove, butter and bacon. Join onion and make it just blond.  Add peas, cook it for ten minutes and therefore join the rice, mixing careful. Cover with abundant consommé (made with assorted vegetables or delicate meat) and let it evaporate mixing often. When rice is cooked add butter and Italian Parmesan cheese. Finish the dish with minced parsley.
Ingredients for 4 people
300 gr of rice, 1 little peace of bacon, italian extra virgin olive oil, butter, ½ garlic clove, 1 onion, 1 kg of fresh peas (not frozen), 1 cup of Italian Parmesan cheese, vegetable (or delicate meat) consommé, parsley
Wine
[coupling by Roma gourmet]
Soave Classico 2004, Inama
San Bonifacio, Verona, Veneto
Flowers and passion fruit flavour, dynamic and vibrating to the palate.