Strict Standards
: Non-static method nggallery::get_option() should not be called statically in
/web/htdocs/www.roma-gourmet.net/home/inglese/wp-content/plugins/nextgen-gallery/nggfunctions.php
on line
10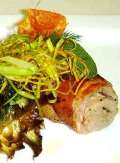 Shank of roasted lamb           
with artichokes "alla giudia" and sweet garlicon sauce
Chef Davide Ciantetti and Catia Sulpizi Easter Italian recipe for restaurant Iolanda – Rome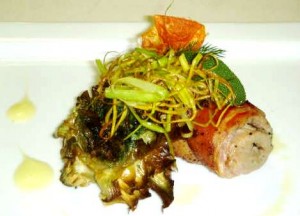 "… he was eating heartily. There was a perfectly pink shank of lamb, with a drop of blood which was shining just near the bone…"
Le cahier de recettes de madame Maigret

Directions for shank of roasted lamb
Shred the lamb shank, oil it, aromatize with rosemary and put it in a hot pot, to obtain a little crust. Add salt and pepper and continue cooking into oven to 160° for 25 minutes (the lamb meat must be pink).
Directions for sweet garlic sauce
While lamb shank is into oven, prepare the sweet garlicon sauce plunging garlicon 8 times in the water (starting from cold to hot water) and after 2 times in the milk. Let it cool, clean and eliminate its soul. Mix garlicon with extra virgin olive oil since obtaining a homogeneous sauce.

Directions for artichoke "alla Giudia"
Clean artichokes and eliminate external and less tender leafs. Put in abundant boiling salt water for 6-7 minutes. Dry artichokes using a cloth and then fry them in extra virgin olive oil at 170°. Season with salt and pepper.

Dish presentation
Bone shank and cut in thin regular slices. Serve with artichoke and sweet garlic sauce, decorating with mint leafs.

Ingredients for 4 people

1 lamb shank of 250 gr; 6 cloves of garlic; 4 artichokes; extra virgin olive oil; rosemary; salt and pepper; mint
Wine
[coupling by Iolanda Italian restaurant]
Nume Cottanera 2005
Castiglione di Sicilia (Catania) versante di nord-est dell'Etna, Sicilia
Full bodied wine, 12 months barrique passing and rubin colour. Fragrance and fruity notes of cassis, spices, pepper, citron wood, toasted coffee, mint and leather ending. In the mouth it is fleshy and with great structure with mellow tannini.