Strict Standards
: Non-static method nggallery::get_option() should not be called statically in
/web/htdocs/www.roma-gourmet.net/home/inglese/wp-content/plugins/nextgen-gallery/nggfunctions.php
on line
10

Fish Carbonara

Chef Giulio Terrinoni and Angelo Troiani Italian recipe - fish restaurant Acquolina - Rome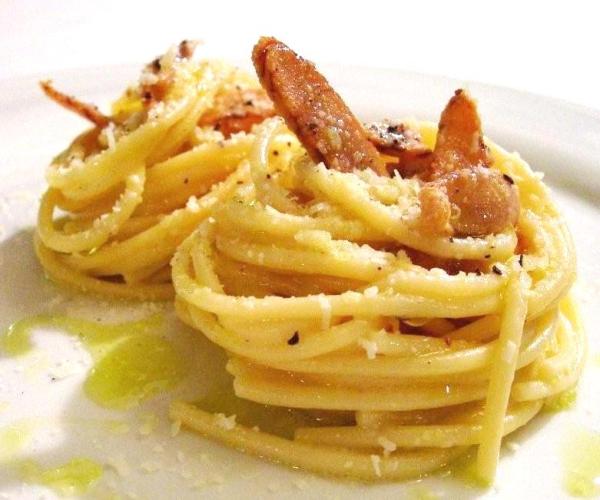 …when Abu Qir opened his eyes and saw the abundance of bread, cheese,  olives and bottarg asked: "where all these food come from?" - "From God generosity" replied Abu Sir…
Arabian Nights Stories [Alf laila wa laila]
Eliminate the exterior layer of fish eggs. In a bowl mix milk and Parmisan Italian cheese. In a pot heat the olive oil adding the bottarg cutted into strings since it is crunchy. Take off from fire the bottarg and put it on a paper cloth.
In the same pot put a perfume of garlic and the fish eggs, let they heat and dry with white wine since evaporation. Put out.
Cook pasta in abundant boiling water and drain firm to the bite. Add the fish eggs and the milk and Parmisan cheese mix cooking for a minute on fire.
Out of fire add fresh ground black pepper and serve in a bottom plate, decorating with crocking bottarg slices.
Ingredients for 4 people
500 gr of vermicelli bucati pasta of Gragnano; 350 gr of fish eggs (for example  sole, sea bass, grey mullet); 200 gr of Bottarg; 4 spoon of whole milk; 4 spoon of Italian Parmisan cheese; 1 glass of white wine; 1 clove of garlic; black pepper; salt; extra virgin olive fruity oil (from Sicily)

Wine
[coupling by Sommelier Massimo Troiani]
Carso Sauvignon Edi Kante 2004
Duino Urisina (Trieste) Friuli Venezia Giulia
"A forceful wine, deep yellow but clear. The concentration of vanilla, mango, flowers and some herbs is inebriant and the balance between acid and fatty is good and suitable to support rough bottarg." Massimo Troiani

Photo by Giulio Terrinoni and Angelo Troiani