Strict Standards
: Non-static method nggallery::get_option() should not be called statically in
/web/htdocs/www.roma-gourmet.net/home/inglese/wp-content/plugins/nextgen-gallery/nggfunctions.php
on line
10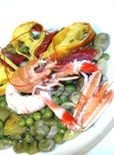 Vegetable Soup "Vignarola" with Corallina Italian salami scampi lemon grass and "Cacione" bread

Chef Angelo Troiani Easter Italian recipe - restaurant Il Convivio Troiani – Roma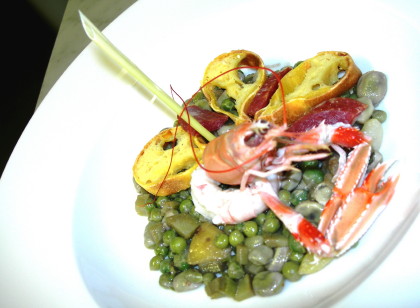 Don Ciccio spooned in his mouth the poor soup, but not so poor on the whole, giving emphasis to poor ingredients by a stocking eddy…
Carlo Emilio Gadda, Quer pasticciaccio brutto de via Merulana

Directions for Vignarola soup
In a low and large pot brown bacon in extra virgin olive oil and wither to low fire garlic and cutted spring onions. When they become transparents, add cutted potatoes, cos lettuce cutted into thin strings and artichokes cutted into pieces. Mix and add salt and pepper. Cover the pot and cook to very low fire, adding some water spoons. Then add peas and fava (broad) beans. If you use very fresh vegetable, the soup is ready in an half of hour. Serve the soup lukewarm adding a little bit of forceful fruited extra virgin olive oil.
Ingredients for Vignarola soup for 4 people
3spring onions; 2 spoons of extra virgin olive oil; 1 cos lettuce; 4 cleaned artichokes without ardest leafs; 300 gr of peeled fresh peas; 300 gr of peeled fava (broad) beans; 2 cloves of garlic; 100 gr of new potatoes; 70 gr of bacon, salt and pepper
Directions for Scampi
Brown to low fire lemon grass in not many extra virgin olive oil and stir fry scampi.
Ingredients for Scampi for 4 people
4 fresh scampi; 2 lemon grass
Directions for Cacione
Pull the egg puff pastry (1 cm) and cut some rectangles (7 cm for 30 cm). Prepare the stuffing mixing Italian Parmisan cheese, Roman Pecorino cheese and eggs. Put stuffing on the puff pastry by a sac à poche. Dry with water puff pastry borders and close them joining edges. Pierce the higher part of puff pastry using a fork and put into oven to 180° for 8 minutes.
Ingredients for Cacione for 4 people
200 gr of egg puff pastry; 200 gr of Italian Parmisan cheese; 100 gr of Roman Pecorino cheese; 1 egg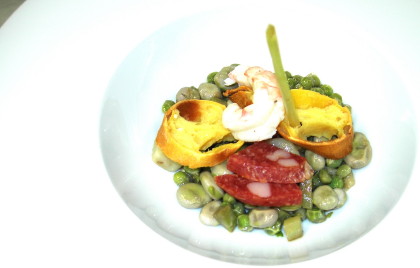 Dish presentation

Pour out the vegetable soup Vignarola in a deep plate and put in the middle one scampo. Complete the dish adding cutted corallina salami and some tepid cacione slices and decorating wit lemon grass.
Wine
[coupling by Sommelier Massimo Troiani]

Brunello di Montalcino Piaggione 2002
Podere Salicutti, Toscana
"To couple this Soup I love a red wine of a sensitive wine producer: Francesco Lenza who has an intresting personal history. He was born in Sicily, then he has been lived in Rome for 30 years and now he lives in Tuscany, in Montalcino. In my opinion a great wine is the result of the man who makes it and the wine produced by Lenza reflects his life passion and his character.
I choose a Brunello Piaggione 2002 of Podere Salicutti, an elegant and well balanced wine produced with biological grapes. The colour is not very forceful, but the wine has a fantastic tannic mellow and wild berries perfume."
Massimo Troiani
Photo by Troiani