Strict Standards
: Non-static method nggallery::get_option() should not be called statically in
/web/htdocs/www.roma-gourmet.net/home/inglese/wp-content/plugins/nextgen-gallery/nggfunctions.php
on line
10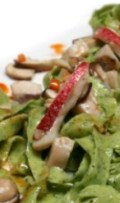 Green tagliatelle pasta with red mullets, porcini mushrooms,
tomatoes confit oil and italian extravergin olive oil

Italian chef Angelo Troiani recipe (restaurant Il Convivio Troiani - Rome)
dedicated to Pippi Longstocking for "Taste of Theatre"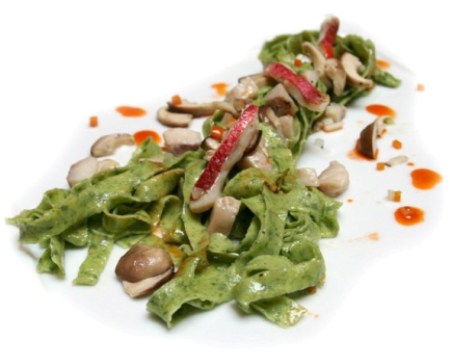 …
Directions for green (spinach) tagliatelle
Mince spinach and mix with egg and mixed flour.
Let it stand for 2 hours.
Spread by rolling-pin and cut as tagliatelle.
Ingredients for 4 people
200 gr durum-wheat semolina; 300 gr flour 00; 2 egg yolks; 3 eggs; 100 gr boiled  and squeezed spinach
Directions for fish ragù
Heat the oil, add the minced vegetables, red mullets bone, bay leaf, garlic and wine. Cook until the onion has a nice golden color.
Season with salt and pepper.
Take off fishbone and add cut red mullets filets. Cook for 2 minutes.

Ingredients
olive oil; celery; carrots; onion; bay leaf; black pepper; garlic; 4 red mullets; fisbone; withe wine
Directions for porcini mushrooms
Stir fry the porcini mushrooms with extravergin olive oil and a clove of garlic. When they are almost ready add some parsley.

Ingredients
3 porcini mushrooms; garlic; italian extravergin olive oil Forcella; parsley

Dish presentation
Bring to the boil a large pot of water, salt it with coarse salt, wait for few minutes and then add the tagliatelle. When ready drain it, add to the fish ragu and mushrooms. Put into dishes and add some italian extravergin olive oil and tomaotes  confit oil.
Ingredients
oil of tomaotes confit; italian extravergin olive oil DOP Forcella

© Maria Luisa Basile
Chef Angelo Troiani recipes for Roma gourmet